Smart Mobile Terminal – Latest
·5.5 Inch LED-Backlit with Multi-Touch
·High-Speed Thermal Printer, Realizing Rapid Printing and Issuance of Receipts
·Accept All Connectivity Methods Including FDD-LTE, TDD-LTE, WCDMA, GPRS, WiFi, Bluetooth
Android Version 10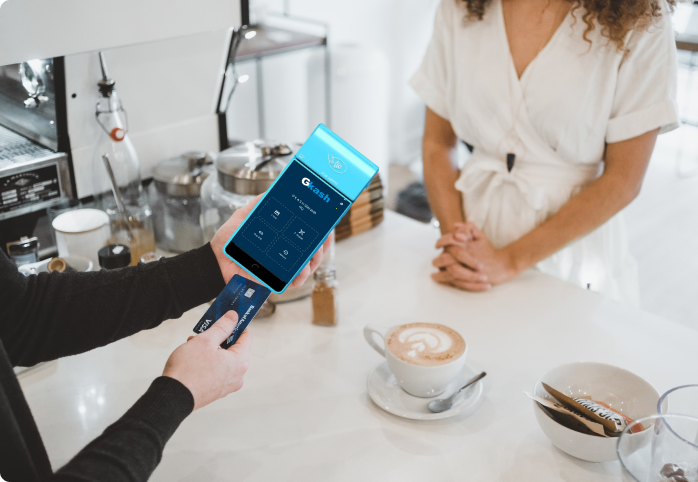 Gkash Smart Terminal (T1)
5-inch cach capacitive screen. Comprehensive function, main include 4G+WIFI+BT+HF+MSR+IC reader+Camera+58 printer, support Dual PSAM card and SIM card.
Flexible and secure platform
Multiple connectivity: 4G/3G/2G/WiFi (2.4&5G) / Bluetooth 4.2
1D & 2D scan
High capacity Polymer rechargeable battery, support more than 300 transaction & 3 days standby time
50,000 hours average failure-free working time
Touch screen terminal with printer (Android 7.0)
Support card scheme (contact & contactless) and major E-Wallets
Suitable for high volume transaction
Support multiple application
Competitive pricing
Gkash miniPOS (ME-51)
The highly flexible mobile payment terminal ME51, adapts to mainstream payment methods with complete security including traditional bank cards, NFC contactless cards and QR payment. Both lightweight and pocket-sized, it further extends payment acceptance possibilities in face-to-face environments.
Optional 2.4-inch colour touchscreen, supporting electronic signatures

Optional rear scanner to support 1D/2D code payment
Additional RS232 port to support abundant possibilities of peripherals extension
Support WIFI 2.4GHz and 3G/2G ( Sim Version)
Support card scheme (contact & contactless) and major E-Wallet (QR scan & display)
Suitable for high volume transaction
Suitable for unattended machine (kiosk, vending machine etc.)
SDK provided for third party system intergration